Every organization needs to be equipped with a mechanism to identify and correct faulty status and initiate corrective actions. This mechanism is more critical for more complex organizations but today we find only in large corporates departments called "Compliance department", "Internal audit", "Quality assurance"  or similar. Perception of those departments is usually skewed as we see only one part of the work they do – they ask difficult questions, they ask for proof, they ask for logs, they ask for checks, controls. The more important outcome of people working there is corrective action taken once discrepancies in work is found. As a result of compliance department activities, we get better consistency and quality of work performed inside of the whole organization.
Now move your perspective into internal IT organizations, with ever growing complexities, frequently we find that not all of the consequences of performed or not performed activities are known. And think a little bit more – how the internal quality of work in IT is assessed and improved. Does your IT organization have a mechanism in place, one which identifies a broken process, omissions in "have to be done" activities, is there any mechanism capturing good ideas to improve, eliminate, automate, enhance, speed up of thousands of things which happen in IT every day?
As the complexity of IT grows, these type of questions needs to have the straightforward answer – YES WE DO. The role of IT quality manager needs to be established, filled with resources, skills, authorities, and tools to manage IT quality in the right way.
If you have not yet embarked on this journey, I think it's the right time to start now.
So what should be done:
All people in IT should understand fundamentals of IT quality
IT Quality manager should be identified and trained
IT quality management process should be iteratively developed
The overall level of IT quality should be checked to trace future quality changes
To help with an initial step I suggest everyone in IT should get overview knowledge of what IT quality is. You can't manage or improve the thing unless you describe what the thing is. IT quality needs to be understood by everyone including IT quality manager, CIO and colleagues outside of IT.
But not everybody needs to understand all details. Fundamentals are important to be known by entire IT department, but next levels require specialization and deepening skills.
Pyramid shows how knowledge should be distributed.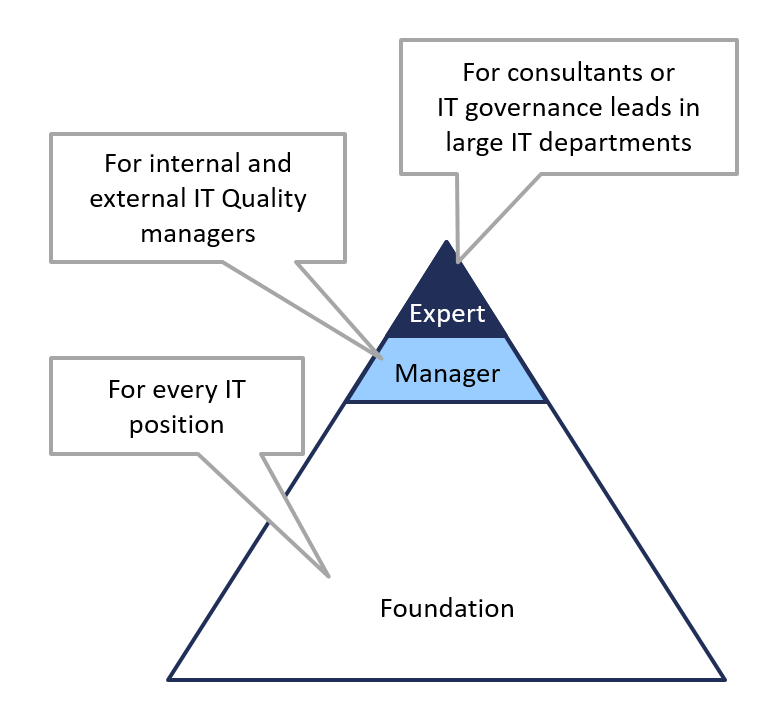 My combined experience as manager/trainer/consultant shows, that people are frequently sceptic about the value of foundation level course as they remember some trainings with many slides of theory and no practical assignment. People start to think about any foundation level course with the same predetermination and expect long, boring course. But it doesn't need to be.
Foundation level course of anything in my view should be short with practical parts, with not so complex exam.
Length of foundation level course should be either 1 day 60%/40% or 2 days 40%/60% (where percent is split between theory and exercises)
The exam should be simple only to identify outliers – people who missed the key points of training
More advanced trainings are targeted to people who will use the theory right after the training and where more complex and more advanced exercises are natural, the exam should be more difficult where theory and quality of candidate work on the course should be reflected in exam result evaluation.
With those ideas in mind, IT Quality index trainings were designed.
1 day overview for everyone in IT – IT Quality Index Foundation
2 days course with hands-on exercises for IT quality managers – IT Quality Index Manager
1 day course about the measurement of overall IT quality – IT Quality Expert
Courses are available through PurpleGriffon and Q4IT in other places
While many IT departments claim themselves as proactive, they report reactive KPIs like volume of incidents, request, changes. Can you be proactive if you can't report what proactive things you do? IT quality management gives you the answer – "We constantly improve what we do and we can show it in a way, which management understands".