IT QUALITY MANAGEMENT SYSTEM
text sourced from: "IT Quality Index 2022 Edition" ISBN: 9798543925812

Can we demonstrate what has improved in IT over last months?
Is IT reactive or proactive?
Do we have traceable records of IT self-improvements?
How does IT quality management fit into the overall organization quality management system?
How do we stand against similar IT organization from the IT quality level perspective?
Do we improve our overall IT quality or our quality is stagnating?
Who is managing quality improvements?
What is the value of improvements in light of no improvements happened?
Most of the organizations introduced quality management systems many years ago usually based on ISO/IEC 9001. Some organizations even introduced service management system either driven by ITIL processes or service management norms like ISO/IEC 20000. Some organization are structured per COBIT enabling processes, like APO11 Manage Quality. Those norms and frameworks are in great help to demonstrate external customers focus on quality and structured approach to service quality deviations impacting customers. But the issue is more complex than it looks – in fast pace world every organization needs to be equipped with a mechanism to identify faulty status and governance component malfunction to initiate remediation and prevention of reoccurrence. But even that is not all – mechanism of "positive mutation" needs to exists allowing testing and acceptance of better ways of doing its activities. We need to manage improvements of existing practices and elimination of bad practices.
Structured IT Quality Management System needs to be introduced in all IT departments as self-improvement is the only way to commit proactive IT management rather than reactive focused on incidents, problems and requests. The new role of IT quality manager providing answers to all question put in the beginning is needed. IT QMS with visual support, right tool for tracking improvements in IT Quality Index structure, right organization design needs to be introduced.
Value to business:
Proactive IT can demonstrate the value of improvements and costs of bad quality
Changing mindset and communication style either in IT and all IT/Organization interactions
Encourage faster innovations of practices in IT
The constant search for better ways of doing all IT activities
IT Quality Management System – key parts:
Design of IT QMS based on standard templates adapted to customer context
Mapping and interconnection with organization quality management system
Role of IT Quality Manager
Tool support for improvement tracking, visual proportional board
IT Quality Board and IT quality reviews
Valuation of improvements technique – CVC, RBA
Mapping to COBIT 2019 enabling processes, APO11 Managed Quality. Mapping to SFIA skills – QUAM, Quality management
Proactive reporting and visualization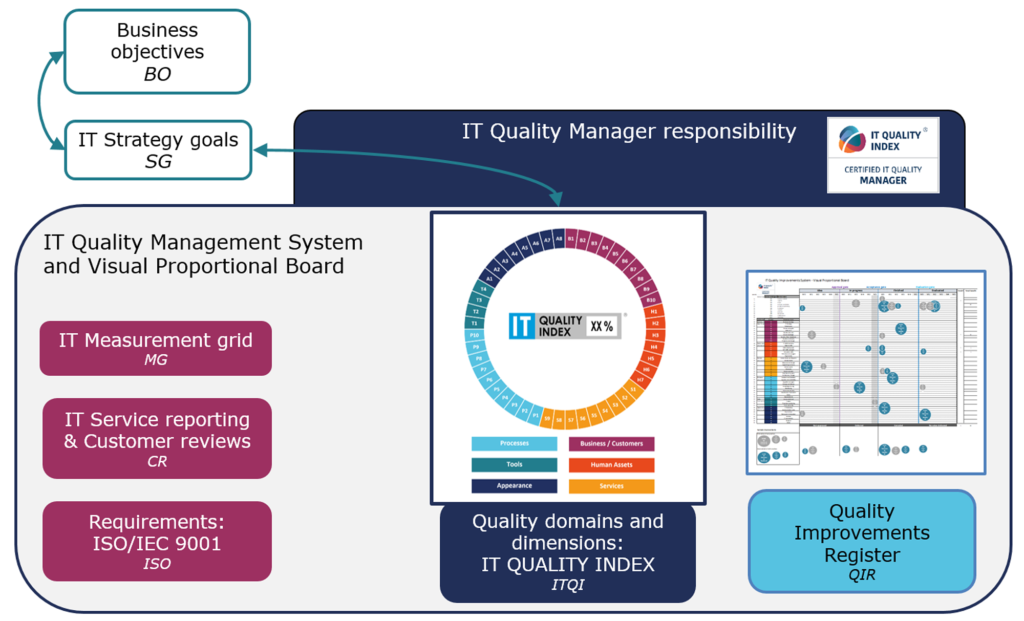 © Q4IT 2022 picture from book : IT Quality Index 2022 Edition
Introduction of IT QMS is in the form of either combined consultancy project usually together with IT quality Index measurement or a standalone project. Alternatively, internal experienced IT professionals may pass Certified IT Quality Manager training where deep knowledge and process templates are obtained and the process then can be introduced with internal effort.
Measurement of IT Quality and IT QMS:
Managing improvements needs to be combined with measurement of absolute quality level, so the combination of regular IT Quality Index measurement and ongoing IT QMS is the very best combination, as shown below.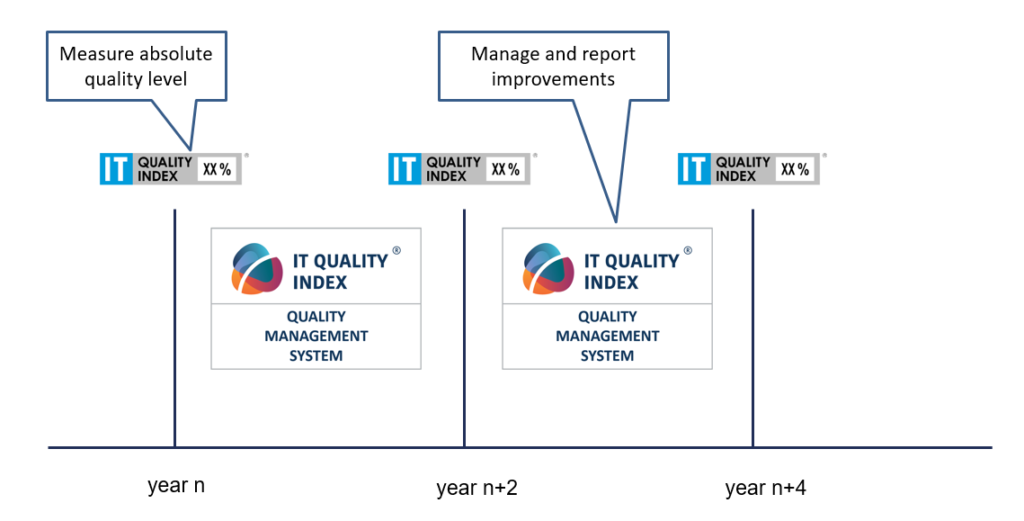 © Q4IT 2022 picture from book : IT Quality Index 2022 Edition
Project size:
Typical project size for IT QMS is in range of 20-40 days for medium size of IT. Role of IT Quality manager maybe be shared with other roles in IT, could be also external. The Quality manager may perform many activities of process managers and process owners so QM role does not mean headcount increase. For the department of 30+ FTE role of IT Quality Manager will be likely staffed with permanent job role.
Download IT QMS document in .PDF file here.
Typical steps of establishing IT QMS, compliant with COBIT 2019 and ITIL4, using IT Quality Index logic.
IT Quality Foundation training for 2-5 peoples
IT Quality Index assessment to understand where we are and where we can improve
IT Quality Manager training for 2-4 people
Design and establish your own IT QMS
Typical scope is a small scale project lasting 6-9 months.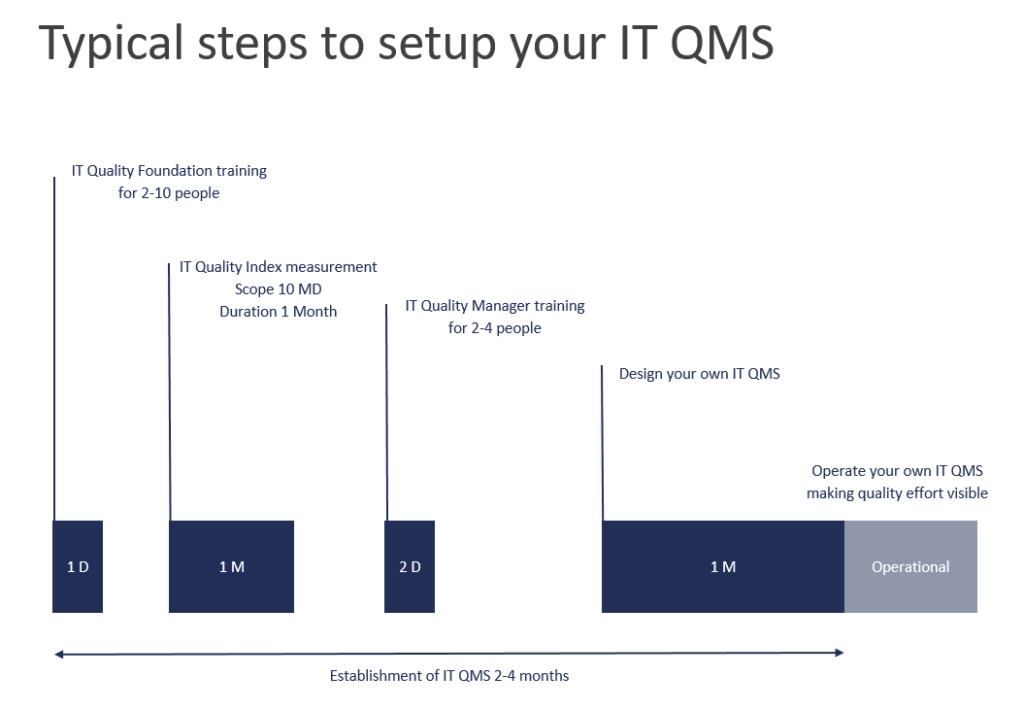 Deatil logic of IT Quality Management System is described in the book IT Quality Index 2022 Edition, ISBN: 9798543925812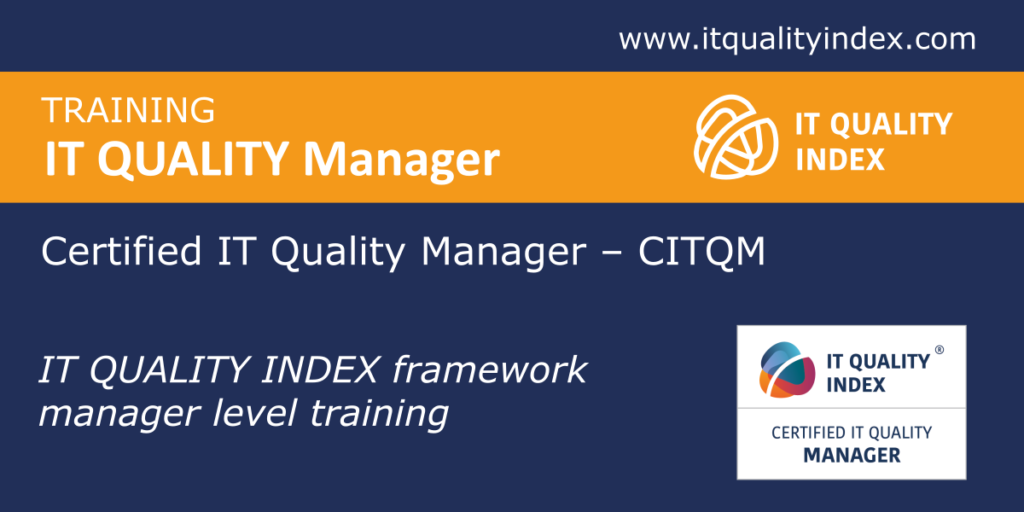 ITIL® is a registered trade mark of AXELOS. All rights reserved.
IT QUALITY INDEX® is a registered trade mark of Q4IT. All rights reserved.