Certified IT Quality Manager – CITQM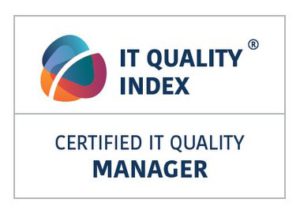 Course length:  2 days including certification exam
Price:   1.110 GBP     1.260 EUR    1.896 USD    including certification exam   (VAT excl.)
Place and date:   see courses calendar
Download course detail here
Registration: registration form
Prerequisites: CITQP – Certified IT Quality Foundation
Target group: IT managers with a focus on IT quality, team leaders, IT quality managers, CIOs. Individuals aiming to become Certified IT Quality Manager – CITQM. Course is targeted to IT quality managers managing continual IT quality improvement systems.
Course Learning Objectives: This qualification presents deep understanding how IT Quality Index framework could form basis for continual quality improvement in all quality dimensions. Course participants will gain knowledge how to design, operate IT quality management system on strategic and tactical level.  SFIA skills: Quality management QUMG 5-7, Quality assurance QUAS 5-6, Quality standards QUST 5, Conformance review CORE 5-6.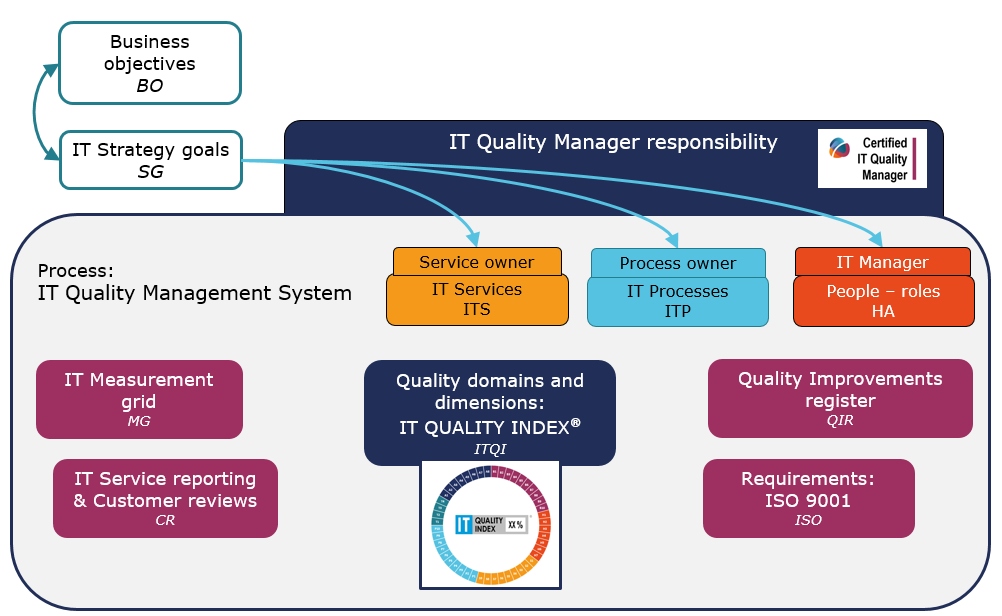 Course agenda
2 days:
Overview of IT quality management system
Overview of ITQI framework
Designing visual IT QMS system
Key components of IT QMS
Establishing IT QMS – roles, activities
Improvements initiations, recording, processing
Managing improvements
Measuring value of improvements
Reporting and KPIs of IT QMS
Value to business
Exercises:

Finding ideas for improvement
Visual management of improvements
Valuation of improvements

Test – 60 minutes
Additional information:
Course is led by experienced Accredited IT Quality Expert and Trainer – AITQE / AITQT
Course is including practical assignments to provide platform for learning by doing
IT QUALITY INDEX XX%  and IT QUALITY INDEX  is a registered trademark of Q4IT Limited. All rights reserved.