All IT QUALITY INDEX  assessment must be delivered by Accredited IT Quality partners (AITQP) or Accredited IT Quality Experts (AITQE)
Conditions and requirements should be requested by mail – see Contact page.
Requirements for AITQP:
Consulting company with IT governance, ITSM focus
One or more AITQE
Signed licence and accreditation contract
Requirements for accredited trainers AITQE:
ITIL Intermediate certification or ITIL Expert
LinkedIn profile
Demonstrated experience in IT management and IT consultancy
Passing IT Quality Index Expert course including exam
Personal and professional quality – positive acceptance in ITSM community
Some exceptions in requirements can be conditionally approved.
Accreditation is granted on an individual basis, accreditation is always granted to a company (AITQP) or individual person (AITQE). Any assessment is delivered and quality guaranteed by concrete AITQP or AITQE – Quality certificate is signed and quality guaranteed by individual AITQE.
Granting accreditation for Accredited IT Quality Expert is not automatic process after collecting requirements. Our aim is to maintain the community of AITQE as a respected group of ITSM professionals, who are known and recognized in ITSM community, who are positive and maintain high ethical standards. Every accreditation is conditional, can be terminated if rules of IT Quality Index assessments are not followed.
Participation in all quality assessments is recorded – participants are gaining credits which can be used for becoming AITQE. The special award is also granted to the person with the highest volume of credits collected over the calendar year.
Loyalty fee is applied to: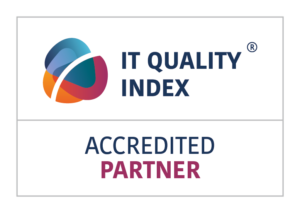 AITQP – Accredited IT Quality Partner – individual conditions agreed
or
AITQE – Accredited IT Quality Experts – on annual basis and per assessment
detail info can be requested by mail.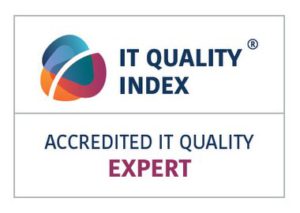 For any type of accreditation, ITQI training is required.
If interested to use IT Quality Index please fill form here