Certified IT Quality Expert – CITQP
Accredited IT Quality Expert – AITQE
IT QUALITY INDEX framework expert level training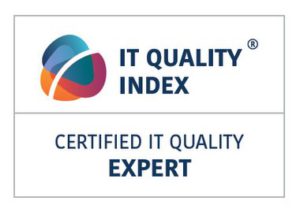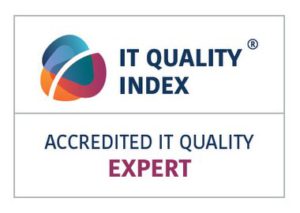 Course length:  2 days
Place and date:   see courses calendar
Download course detail here
Registration: courses are available through Accredited Training organizations
Prerequisites: no pre-requisites, recommended ITIL® intermediate  or ITIL® Expert or any ITIL 4  certification. Course is targeted to experienced IT managers or senior consultants.
Target group: IT managers with a focus on IT quality, team leaders, IT quality managers, CIOs. Individuals aiming to become Certified IT Quality Experts (CITQE – internal use) or Accredited IT Quality Expert (AITQE – commercial use, consultants). This course is mandatory for licensing process for gaining Accredited IT Quality Expert accreditation.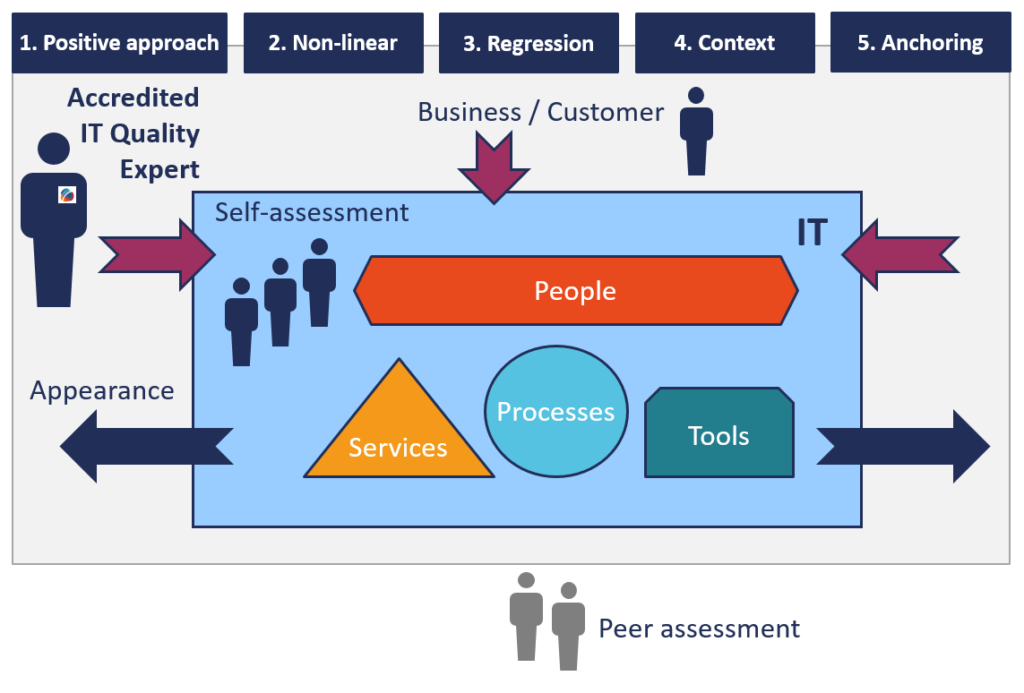 Course Learning Objectives: This qualification presents an expert level of IT Quality Index framework – concept of quantification quality of IT into management comprehensive form. Course participants will gain expert knowledge of  48 quality dimensions, how to assess their IT quality levels, identify areas with biggest improvement potential.  Candidates will learn how to manage quality assessment session, how to process, interpret and communicate result data. Candidates will gain knowledge how to focus communication with business on overall quality.  Candidates will get an understanding of data processing logic, licensing rules and way of working within AITQE community. SFIA skills: Quality management QUMG 4-6, Quality assurance QUAS 4, Measurement MEAS 4, Conformance review CORE 4-5
Course agenda
Day 1: cover same topic as Foundation level
IT Quality measurement – motivation to qualitative metrics
Previous models used to analyse IT quality and why we need another paradigm of what quality realy is
Architectural design of holistic IT quality assessment
IT Quality Index – model, principles
Quality domains, dimensions, attributes

Business/Customers
People – Human capital
Services
Processes
Tools
Appearance/Image

IT Quality Index assessment – planning, organization, method of assessment
Analysis and data processing
Interpreting results, creating management summary, results presentation
Day 2:
Managing assessment session – who/what/how
Data processing – logic, data aggregation, statistical processing
Free / commercial exploitation – licensing rules
Value proposition to the business
Online certification exam Certified IT Quality Expert CITQE
Additional information:
Course participants are provided with hot/cold drinks, lunch, snacks – not applicable to online trainings
Active participation in course – role playing,
Course is lead by experienced Accredited IT Quality Expert / Trainer – AITQE / AITQT
Requesting quotation for a closed group?
Provide us information to send you an offer here