Recent assessments from the IT Quality Index have provided empirical evidence shedding light on common issues prevalent in many IT departments. These findings not only pinpoint existing challenges but also underscore the pressing need to integrate proactive, future-focused components into IT governance. In this exploration, we'll delve into the over-performing quality dimensions and the specific issues that demand attention for a more effective and forward-thinking IT approach.
Common Problems:
1. Service Catalogue Management: A recurring issue identified in IT quality assessments is the tendency to delve into excessive details within service catalogue management. Often, services are captured at an application level, inundating the catalogue with an abundance of attributes. This approach tends to be IT-centric, overshadowing the essential questions of 'what' and 'why' when recording services. Striking a balance by streamlining the catalogue and prioritizing user-centric information can greatly enhance overall IT quality.
2. Service Level Management: The complexity of Service Level Agreements (SLAs) poses another challenge. Frequently, SLAs are laden with technical metrics such as up-time and incident resolution time. While these metrics are undeniably crucial, an overemphasis on technical aspects can obscure the broader picture of service delivery. A shift towards a more holistic approach that incorporates user experience and business impact can bring about a more comprehensive and effective SLA framework.
3. Service Desk Metrics Overload: While the service desk plays a pivotal role, an excess of metrics related to incidents and requests can inadvertently overshadow other proactive IT initiatives. The focus on incident and request management, while essential, should not eclipse the importance of strategic IT planning and innovation. Striking a balance in metric evaluation can ensure that the service desk remains efficient without compromising on the broader objectives of IT governance.
Areas Worth Allocating More Attention:
1. Structured Skills Management: A critical aspect that often warrants more focus is structured skills management. Leveraging frameworks like the Skills Framework for the Information Age (SFIA) can provide a clearer understanding of available skills and illuminate areas for development. A strategic approach to skills management ensures that the IT team possesses the necessary expertise, fostering a more agile and responsive workforce.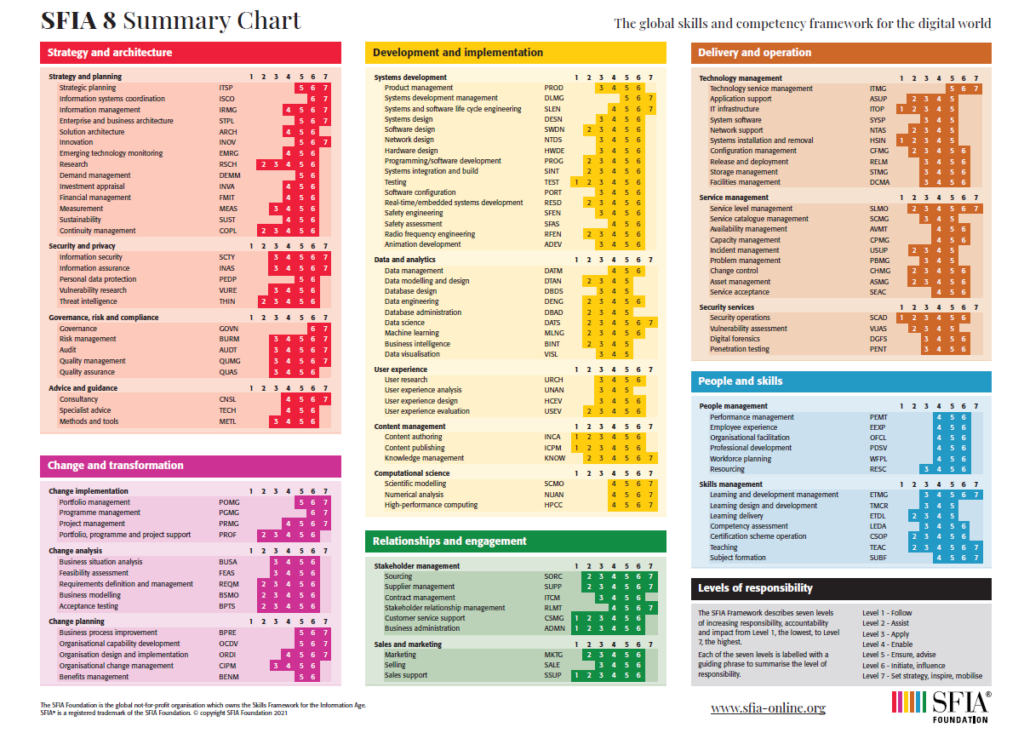 2. Improvements and Innovation: To propel IT departments towards a proactive future, establishing a structured approach to both improvements and innovation is paramount. The creation of an integrated Improvement and Innovation Management System (IIMS) streamlines processes, encourages creativity, and ensures that both incremental improvements and groundbreaking innovations are woven into the fabric of IT operations.
3. Qualitative Metrics Over Quantitative Overload: Shifting from an overwhelming focus on quantitative metrics, there's a growing need for a balanced approach. Introducing qualitative metrics offers a more nuanced understanding of IT performance. Metrics such as collaboration quality, knowledge worker quality index, and proactivity index provide valuable insights that extend beyond mere numbers. This balanced perspective allows for a holistic evaluation of IT contributions and efficiency.
In directing attention towards these areas, organizations can lay the foundation for a more dynamic and future-ready IT governance model. By embracing structured skills management, fostering improvements and innovation, and adopting a balanced mix of qualitative metrics, IT departments can not only address existing challenges but also proactively shape a path towards sustained excellence. The integration of these elements into the broader IT governance framework sets the stage for a more resilient and adaptive IT landscape.