Train the trainer program is available for training organizations and trainers. For consultants we offer prepared project templates and predefined types of IT Quality related consultacy projects.
Free Train-the-trainer courses are provided via Q4IT – registration form is here
For trainer who wish to explore content and attractiveness for adding courses to their portfolio we offer free online train-the-trainer sessions.
For training organizations and trainers we offer swift on boarding through:
Prepared courseware for 3 courses – IT Quality Index Foundation, Manager, Expert
Sample questions
Visual aids and excercises
Certification exams and certification authority
IT Quality certificates and badges generated for successful candidates
For becoming IT Quality Index training organization and eventually also deliver consultancy services, you need to have trainers  who passed Expert and Manager level. Future trainers may ask for extra conditions for participation on public courses or may ask individual train the trainer sessions – usually group of trainers for bigger training organizations. This could be organized on-site or online in agreed dates.
There are available free train-the-trainer courses – please contact us here: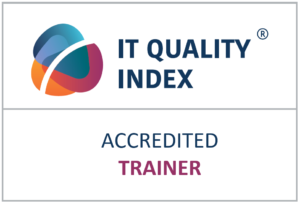 For consultants:
Deliver to your clients IT Quality assessments and Quality/Costs benchmarks
Help your clients to build IT Quality Management System – IT QMS
Use centrally developed templates and central processing of data to deliver statistical processing based on large database and aggregated experience
Contact us for an extra dates or on-demand training classroom or online
Regarding information about the upcoming train-the-trainer session, you may send us extra request here:
If you are a training organisation, you may wish to extend your training portfolio and join accredited training organisations: