Certified IT Quality Professional – CITQP
IT quality assessment framework overview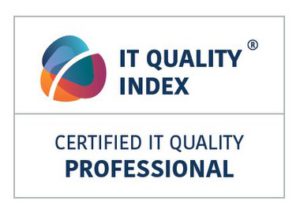 Course length:   1 day
Dates and places:  Courses are available through Accredited Training organizations
Target group:  All IT professionals including team leaders, CIO, Senior IT managers, IT managers, Quality Assurance managers, Compliance leads, Supervisors, IT professionals. Individuals aiming to become Certified IT Quality Professional – CITQP, Individuals aiming to become Accredited IT Quality Expert – AITQE or Accredited IT Quality Trainer where IT Quality Index Foundation certificate is required.
Download course detail here
Prerequisites: No prerequisites – ITIL® Foundation or higher certificates are very helpful
Course Learning Objectives: This qualification presents an overview of IT Quality Index framework – the concept of quantification quality of IT into management comprehensive form. Course participants will gain knowledge how to assess actual IT quality levels, identify areas with biggest improvement potential. SFIA skills: Quality management QUMG 4-5, Quality assurance QUAS 3-4,
Course Outcome: Successful candidates will gain Certified IT Quality Professional – confirmation of understanding fundamentals of holistic approach IT quality.
Course Agenda
IT Quality Measurement – motivations
Previous IT quality models
Architectural design of holistic IT quality assessment
IT QUALITY INDEX – model, principles, IT quality definition
Quality domains, dimensions, attributes

 Business/customers
Human assets
Services
Processes
Tools
Appearance

IT Quality Index assessment – planning, method of assessment
Analysis and processing
Interpreting results, creating management summary, result presentation
Value to business
Test – 45 minutes, 20 questions
Additional information
Course participants are provided with hot/cold drinks, lunch, snacks
Active participation in course – role-playing,
Course is lead by experienced Accredited IT Quality Expert – AITQE