Certified IT Quality Professional – CITQP
Introduction into IT QUALITY INDEX framework
Course length: 1 day including 60 minutes test
Date & Place: 23rd August London, 23rd October Copenhagen
Target group: All IT professionals, CIO, Senior IT managers, IT managers, Quality Assurance managers, Compliance leads, Supervisors, IT professionals, Individuals aiming to become either Certified IT Quality Professional – CITQP, or want to achieve higher level Certified IT Quality Expert – CITQE or Accredited IT Quality Expert – AITQE
Price: 665 € + VAT including test, valid till 31.8.2017. Regular price 795€
In case of interest you can register on-line.
Do you need more information or do you prefer a printed registration form?
Download course detail Download registration form
Prerequisites
No prerequisites – ITIL® Foundation or higher certificates are very helpful
Course Learning Objectives
This qualification presents an overview of IT Quality Index framework – concept of quantification quality of IT into management comprehensive form. Course participants will gain knowledge how to asses actual IT quality levels, identify areas with biggest improvement potential. Successful candidates will be awarded with Certified IT Quality certificate – CITQP. For candidates willing to actively use IT QUALITY INDEX framework extended course is available – IT Quality Index Expert – CITQE.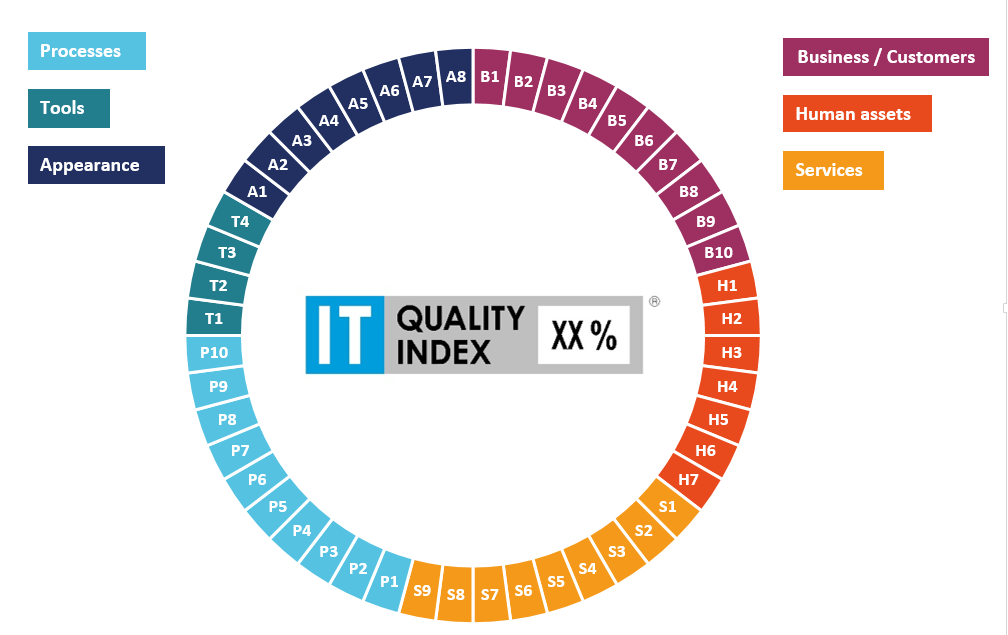 Course agenda
IT Quality measurement – motivations
Previous models used to analyse IT quality
Architectural design of holistic IT quality assessment
IT Quality Index – model, principles, IT quality definition
Quality domains, dimensions, attributesBusiness/customers

Human assets
Services
Processes
Tools
Appearance

Technique of IT Quality Index assessment
Analysis and processing
Interpreting results, creating management summary, results presentation
Value to business
Test – 60 minutes, writing answers to 6 questions
Participants will learn
How to assess IT quality and quantify the results
How to process data
Compare quality levels pre / after improvement project
Communicate quality levels to customers
Additional information
Course material is in English to keep consistency with internationally used terms
Course participants are provided with hot/cold drinks, lunch, snacks
Active participation in course – role playing
Course is lead by experienced Accredited IT Quality Expert (AITQE)
IT QUALITY INDEX® is a registered mark of Q4IT Limited. All rights reserved.