While we frequently focus on the most visible things we frequently forget to search for what is missing. Skills frameworks for the information age (SFIA V7) is defining an array of possible skills applicable in all types of IT organizations. Not surprisingly a very big part of the allocated skills are targeted to User and Application support (typically 20-35%) but the interesting part is somewhere else.
Quality Management is frequently missing, in many departments its sitting at 0% FTE
Innovations are frequenlty ad-hoc activities, also around 0% FTE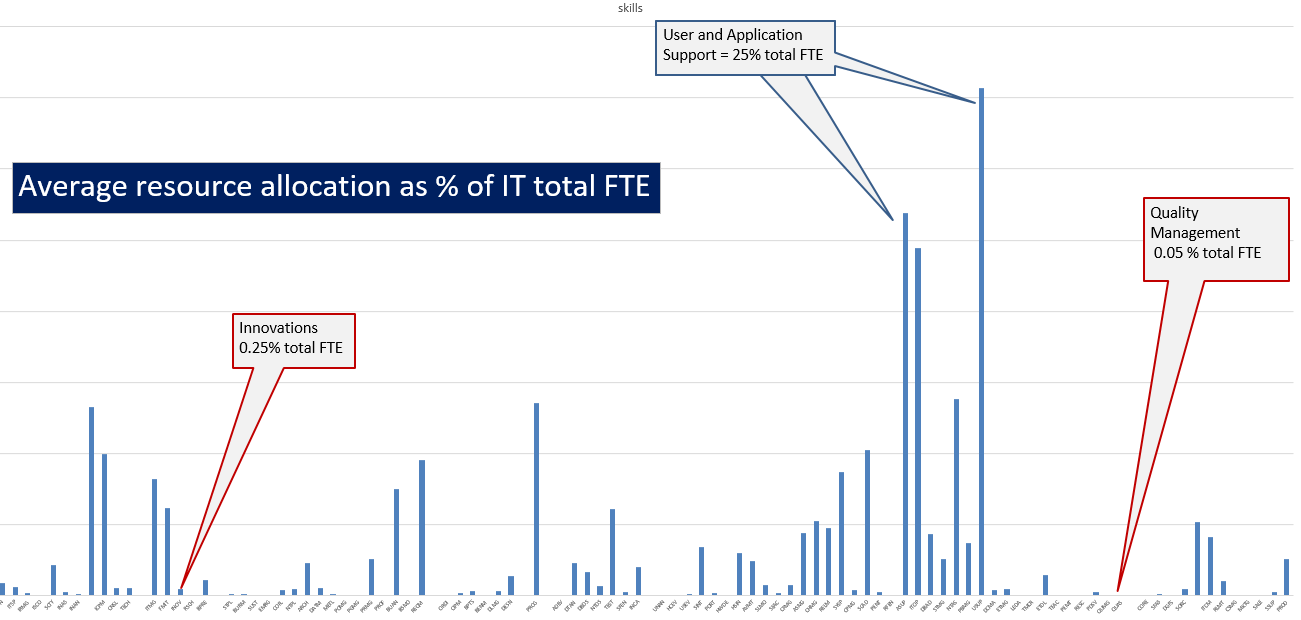 The displayed graph is showing that only a tiny proportion of FTEs are allocated to Quality Management as expected in COBIT 2019 APO11 Managed Quality and described in SFIA as the skill QUMG Quality Management.
The problem here is simple, there is a lack of awareness of new approaches to IT quality management. The Body of knowledge contained in IT Quality Index book (ISBN 9789401802420) has only been available since November 2017 and related trainings were added to the trainings portfolio of several large training companies only in 2018.
It is improving now and more and more training organization are adding Quality related courses to their offerings. There are 3 course available:
IT Quality Foundation – 1 day general overview what IT quality is
IT Quality Manager – 2 days how to build and manage IT Quality Management System
IT Quality Expert – 2 days how to measure and compare quality of IT
Those trainings were appreciated and endorsed by course participants as their focus on quality is well fitting into large IT transformation journey's – moving from massive focus on reactive metrics and efficiency to putting primary effort in adaptations, innovations and perception of IT as an ever learning and improving department that creates more opportunity than resources consumed. This is where IT quality training is aiming to get to – to provide skills enabling the practicing of quality management in all types of organizations.
Sources:
FTE allocation chart: source Q4IT SFIA assessment projects 2017-2018
https://www.sfia-online.org/en