Jan Regner the CIO of MVV who are a European Renewable Energy business wanted to integrate better to the business and understand the progress of improvements in his department with a clear view of how they aligned to the company strategy.
They needed a way of accurately tracking their goals and visualising achievements within a tight timeframe while ensuring they kept pace and remained competitive in their market.
They looked at the market for a way to achieve this and found ITQI.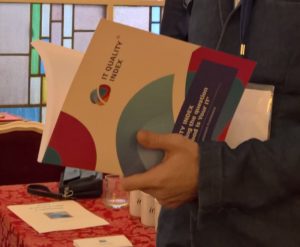 After using the IT quality index this is what he had to say:
"We used the IT Quality Index Assessment to help change the way we understood and delivered on our strategic goals. Our IT received an accurate view of the quality we deliver and its outcomes for the business, the added benefit from ITQI is being able to also compare the level of IT services in relation to other relevant companies in the same market segment. This will really help guide us and provide more confidence to our board.
The IT Quality Index Framework considers the specifications of the different IT environments, their size, structure, etc. and provides a standardised unit of measure that we can trust.
It has helped us establish specific, realistic and achievable goals that will deliver more value to the business while adding additional recommendations. All of this will help us deliver faster in the context of the business needs using solid data and the experience of the consultant, it really gives us confidence in how want to proceed and evidences our achievement.
I am now able to observe the improvement over time and zoom in to the particular dimensions that positively impact the business. A key requirement for us was that it also had to be easy to understand without taking weeks to implement by our busy management teams, the IT quality index ticked that box right away."